WHY CFP® CERTIFICATION MATTERS
Financial planning is an excellent career choice. The need for qualified financial advisors is great … and growing. Earning the CERTIFIED FINANCIAL PLANNER™ professional certification prepares you to be a more accomplished and effective advisor by providing the knowledge, credibility and expertise needed to set you apart. If you are looking for a proven path to the top of the financial planning profession, the CFP® professional certification is a must.
Here are some telling statistics on why CFP® certification matters:
Career Satisfaction: 93% of CFP® professionals are very satisfied with their career choice; 93% are very satisfied with their decision to pursue CFP® certification
Increased Success: 82% of CFP® professionals report that certification has directly contributed to their success as a personal financial planner
Competitive Advantage: 87% of CFP® professionals believe they have an edge over financial planners who do not have CFP® certification
Income Potential: 70% of CFP® professionals report that earning certification has had a positive impact on their salary or other compensation
Whether you are an established advisor looking to build on your credentials, someone seeking greater challenges via a career change or an aspiring young person contemplating a meaningful career, CFP® certification can open up a world of opportunities.
---
ABOUT CFP BOARD
CFP Board of Standards sets and enforces the requirements for CERTIFIED FINANCIAL PLANNER™ certification – to uphold standards of competency and ethics for financial planners who are committed to CFP Board of Standards to putting their clients' best interests first. CFP Board Center for Financial Planning advances competent and ethical financial planning and expands CFP® professional diversity for the benefit of the public.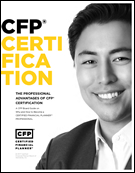 Let CFP Board get you started on the path to becoming a CERTIFIED FINANCIAL PLANNER™ professional. Simply submit the form below to get your free download of the Professional Advantages of CFP® Certification today!
Learn:
The value of becoming a CFP® Professional
The four steps to CFP® certification
By submitting this request, I authorize CFP Board to send me electronic communications from time to time regarding exclusive CFP Board resources. This service can be discontinued at any time by following the opt-out links in the communications.
This offer is only available to residents of the United States and US territories.